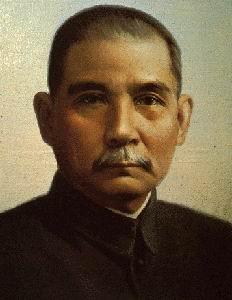 Born on November 12, 1866 in Cuiheng Village, Dr. Sun Yat-sen is the forerunner of our great democratic revolution, winning respects from people of all nations and even the world. Nicknamed by his friends as ¡°Mr. All-rounder¡±, he is diligent in the United States politics, economy, agriculture, astronomy, and geography. Provoked by the corruption of Qing Dynasty, he often discussed and criticized national affairs with Yang Heling, Chen Shaobai and You Lie, and raised proposal of ban on opium, sericulture and education.
He is talented in both medicine and architecture, and designed distinctive Sun Yat-sen's former residence in Cuiheng. In 1894, he drafted ¡°To Li Hongzhang¡±, raising the ideas of making the most of talents, land and characteristics. In November 12, 1894, Xingzhong Organization was founded in Tanxiang Shan City as the China¡¯s first bourgeois revolutionary organization, proposing the outline of ¡°expelling the invaders, restoring the Chinese and creating the united government¡±. In 1896, he came from San Francisco to London made a study and created the Three People's Principles of nationality, civil rights and people¡¯s livelihood in staying in London. In August 1905, he established Chinese Alliance in Tokyo, Japan with Huang Xing and others, and was elected as prime minister, with the outline of ¡°expelling the invaders, restoring the Chinese, establishing the Republic and allocating land averagely.¡±
In August 1912, Chinese Alliance allied with other parties to organize Kuomintang. In October 1919, Sun Yat-sen incorporated Chinese Revolutionary Party into Kuomintang, and published Sun Wen Doctrine and nation-building strategy. In January 1924, the first National Congress of the Kuomintang was held in Guangzhou, publishing Declaration of cooperation with Russia and the Community Party, and co-support farmers and workers. He re-explained the Three People's Principles by way of new outline and new constitution and Kuomintang included various classes including workers, farmers, petty bourgeoisie and the national bourgeoisie to form the revolutionary alliance in order to achieve the first KMT-CPC cooperation. In 1924, he published Beijing Declaration, and died in Beijing in March 12, 1925, aged 59 year old. He willed that the revolution had not succeeded, and we must arouse the people and unite other free nations for a common goal.